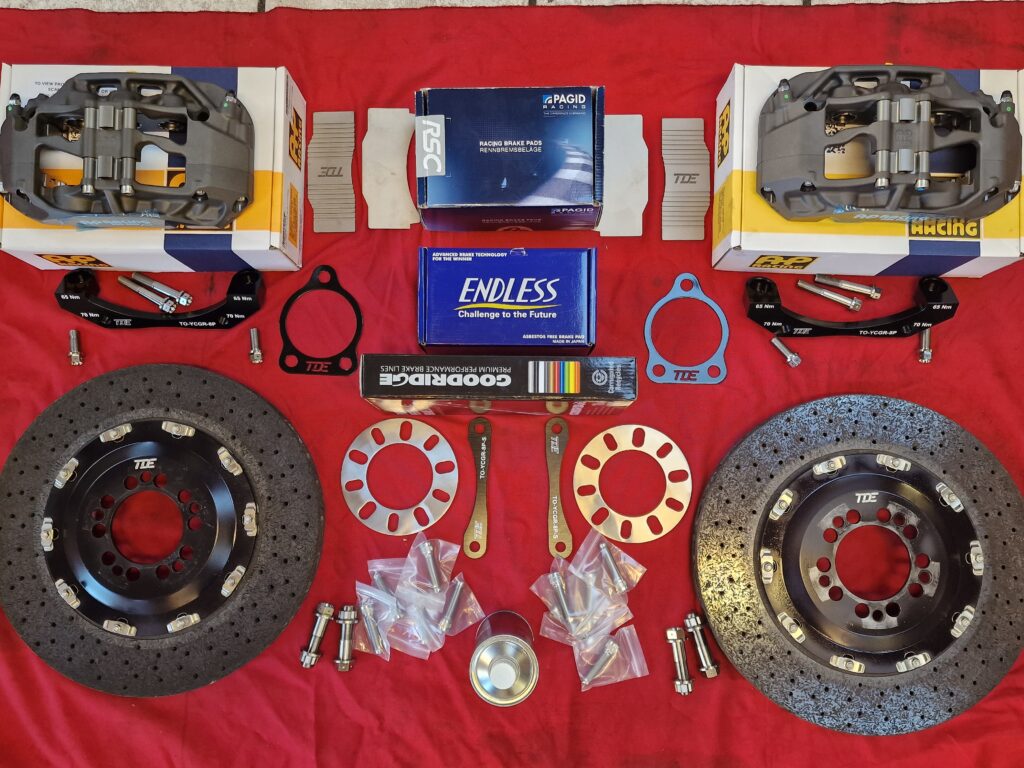 Description
If you are a track day enthusiast or have increased the power in your GR Yaris you want to be looking at a performance big kit and they don't come much better than this TDE Carbon Ceramic Brake Kit.
Available for street, street/track and track use, each tier offers the newest braking technology engineered by TDE along with the features that accommodate your requirements. TDE offers the AP Racing, and XYZ calipers that are manufactured from forged billet, expertly engineered for greater ventilation, lower weight, and maximum thermo-mechanical stiffness. Each application is designed around a stiffer more responsive pedal with staggered piston sizes to prevent pad taper and provide ideal brake torque in all conditions.
TDE now also offer 380 x 32mm discs. Discs in 32mm from 374 to 390mm diameter are made to order. Delivery time 3 weeks.
Kit Includes
Set of 2-piece floating Carbon Ceramic Brake discs (2 sizes available to allow different rim sizes)


374×34 mm (fits OE rims)
380×34 mm (fits 18″ racing rims)

Pair of calipers (Choice of XYZ or AP Racing)
Caliper adapter
Set of Pagid RSC brake pads
Set of Goodridge brake lines
High temperature Pagid brake fluid
Custom TDE shims replacing the dics dust plates for better cooling.
Custom TDE Titanium brake pad shims for better heat isolation.
CCM discs comes with Thermo Paint
Titanium bolts


Caliper to adapter
Adapter to hub
Hub to shock (saves 0,64kg of unsprung mass)
CCM brakes has the following benefits:
Weight savings of up to 70% (typically 12kg of unsprung weight per axle)
Improved handling, stopping distance and driveability
Improved NVH (less noise, vibration and harshness)
Improved performance (in both wet and dry conditions)
Dramatically reduced disc wear – giving increased life
Corrosion resistant
Outstanding performance, even from cold
Note: The kit does not have CE/TÜV approval.
Price for complete kit only €5500 + VAT